Golden Retriever
The big, friendly bundle of fur - Golden Retrievers are loyal companions that love to be by your side.
At a glance
Over 2 hours of exercise a day
Life expectancy of 10 to 12 years
Large, between 25kg and 34kg
Friendly, loyal, intelligent
Over 2 hours of exercise a day
Life expectancy of 10 to 12 years
Large, between 25kg and 34kg
Friendly, loyal, intelligent
Meet the Golden Retriever. The big dog with an even bigger heart!
Over the years, Golden Retrievers have been bred as family pets. But they're also often recognised as assistance and guide dogs, due to their intelligence and obedient nature. They possess a natural working ability which makes them easy to train. Always keen to be friendly with other dogs, they make great pets in houses with existing pets and children of all ages.
Buying or rehoming a Golden Retriever
Getting a new dog, whether you buy or adopt, is a huge commitment and there's lots of preparation you need to do to be ready. Some things to consider are:
Figuring out what to feed them, and buying the food
Buying the essentials, such as leads and collars
Prepping your family, especially any young children
Securing your garden
Understanding grooming routines and techniques
Knowing how much exercise they'll need
Considering pet insurance
Fun fact
Golden Retrievers have a naturally soft mouth and like to carry around their favourite toy.
Top 5 health conditions in Golden Retrievers
We've put together the most common claimed for conditions for Golden Retrievers, based on MORE THAN pet insurance customer claims
| | | |
| --- | --- | --- |
| | | £1,169 |
| | | £129 |
| | | £3,596 |
| | | £947 |
| | | £586 |
Condition
Average paid out
£129
Condition
Average paid out
£3,596
Condition
Average paid out
£947
Condition
Average paid out
£586
Based on MORE THAN data 1 January 2021 to 1 March 2023. Average cost paid out includes excess.
Common health issues and problems in Golden Retrievers
Golden Retrievers are overall considered a healthy breed, with a usual lifespan of over 10 years.
Some health conditions in Golden Retrievers can be down to their genetic history, and commonalities within the breed.
Click on the hotspots to find out more about the most common health issues affecting Golden Retrievers, as provided by our in-house vet team (October 2022).
Progressive retinal atrophy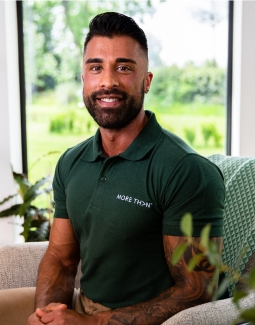 "Golden Retrievers are a large breed and need a fair amount of daily exercise. This doesn't have to be hours of walking though; Golden Retrievers are extremely playful and will enjoy various forms of stimulation, such as obedience training or ball chasing. Just be careful not to over exercise them while they are still growing (in the first year of their life), as this can impact their physical development."
Luke Mangion, MORE THAN Vet
Golden Retriever temperament and family friendliness
Golden Retrievers are typically a family-friendly breed, due to their outgoing temperament and kind nature. They have a soft mouth, and are devoted companions, meaning they usually have great relationships with all members of the family, young to old.
If you have a busy household with young children, every member of the family can get involved in training, although it's important to teach children how to safely interact with the dog. With some basic skills and knowledge under your belt, your relationship with your Golden Retriever will thrive and a lifetime bond can form.
Family-friendly
Friendly
Great with children
Easily trained