At a glance
1 to 2 hours of exercise a day
Life expectancy of 10 to 12 years
Large, between 25kg and 36kg
Easy-going, loyal, affectionate
1 to 2 hours of exercise a day
Life expectancy of 10 to 12 years
Large, between 25kg and 36kg
Easy-going, loyal, affectionate
Labrador Retrievers are the UK's most popular breed, and here's why...
With many positive characteristics, Labradors have been well known throughout the years for their good temper, agility and stamina, intelligence and strong will to please. Known for being one of the most kind-natured breeds, they are often a favourite with families and those who live an active lifestyle.
Buying or rehoming a Labrador
Getting a new dog, whether you buy or adopt, is a huge commitment and there's lots of preparation you need to do to be ready. Some things to consider are:
Figuring out what to feed them, and buying the food
Buying the essentials, such as leads and collars
Prepping your family, especially any young children
Securing your garden
Understanding grooming routines and techniques
Knowing how much exercise they'll need
Considering pet insurance
Fun fact
Labradors have a double coat to protect them from icy water. A bit like otters, they are almost waterproof.
What's it like to own a Labrador Retriever
Video duration: 0:35
Top 5 health conditions in Labrador Retrievers
We've put together the most common claimed for conditions for Labrador Retrievers, based on MORE THAN pet insurance customer claims
| | | |
| --- | --- | --- |
| | | £1,137 |
| | | £564 |
| | | £1,346 |
| | | £116 |
| | | £1,181 |
Condition
Average paid out
£564
Condition
Average paid out
£1,346
Condition
Average paid out
£116
Condition
Average paid out
£1,181
Based on MORE THAN data 1 January 2021 to 1 March 2023. Average cost paid out includes excess.
Common health issues and problems in Labrador Retrievers
Labrador Retrievers are overall considered a healthy breed, with a usual lifespan of over 10 years.
Some health conditions in Labradors can be down to their genetic history, and commonalities within the breed.
Click on the hotspots to find out more about the most common health issues affecting Labradors, as provided by our in-house vet team (October 2022).
Cranial cruciate ligament disease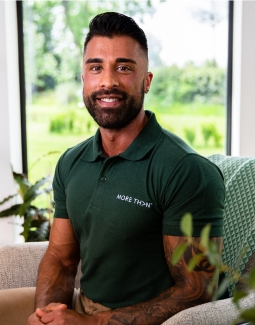 "Labradors are a high-energy breed who require lots of exercise, however it's important to build this up while they're young puppies. Follow a 5-minute rule for every month old they are, up until they're a year old. This will help to protect their joints as they grow."
Luke Mangion, MORE THAN Vet
Labrador temperament and family friendliness
Labradors are typically the most family-friendly breed, due to their calm temperament and kind nature. They have a soft mouth, and are devoted companions, meaning they usually have great relationships with all members of the family, young to old.
If you have a busy household with young children, every member of the family can get involved in training and making kids aware of how to safely interact with the dog. With these basic skills and knowledge, relationships with a Labrador can thrive and lifetime bonds can form.
Family friendly
Faithful
Great with children
Easily trained
Grooming your Labrador Retriever
Overall Labradors don't require a lot of grooming due to their low maintenance coat. However, it's wise to introduce your Labrador to grooming from a young age so that they're used to the different tools and techniques when you need to use them in the future.